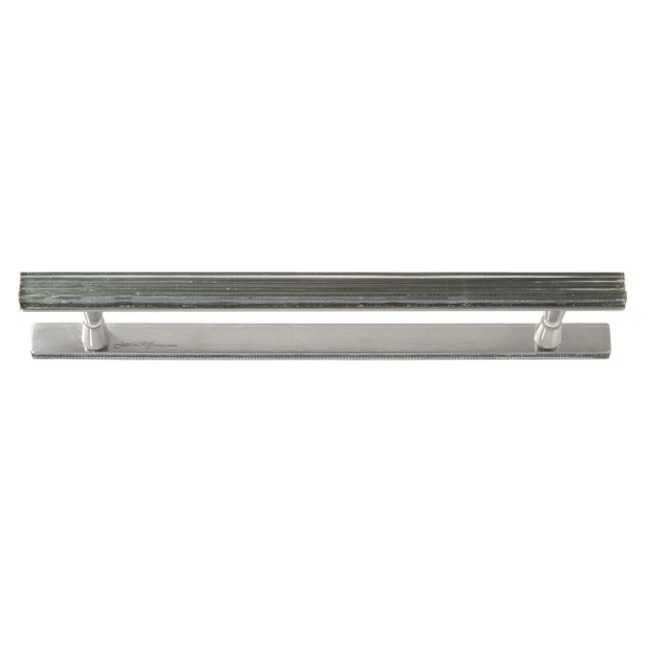 Jazz Hardware Collection - 18'' double Shower Door Handles are beautifully designed to give your glass doors that special look that compliments your creative flair. Our double door handle pulls are built for any glass door 1/2''thick tempered glass.

Made of stainless steel polished from your selection of Polished and Satin Nickel finishes. With your choice of Jazz glass out of our ten popular colors. Harmonize your glass doors with a final detail of hardware with colors and finishes that enhance the look and make your glass door sing with design. Hand made in the USA with solid materials and associated with a US Design Patent.

Our Shower Door pulls are elegant, durable and beautifully designed pieces to be used in combination with our cabinet hardware knobs and pulls. Achieve your own special interior look with that final touch of jewelry, which compliments, all so well, with contemporary styles, and transitional styles.

Our shower door handle was created for Hospitality interiors, yet is perfect for glass doors in restaurants, spas, hotels and high-end residential spaces.

Due to the Artisan nature of this handmade process small variations in the final piece may occur and are considered part of the beauty of the design.


Back to Back shower door handles for use on any interior doors 1/2'' thick glass
Made in the USA of Sustainable materials
Choice of Ten beautiful Colors
Hand Polished Finishes of Mirror Nickel or Satin Nickel
Includes double handle assembly for back to back handles
Size: 12'' & 18''Lengths